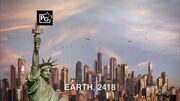 A timeline of events in The Orville. The series begins on September, 2418, 401 years in the future from its real-world premiere on Fox.
Time is measured from the first year of the series. Therefore, to say the Dorahl Bioship embarked "2,000 years ago" means it left home around the year 400 CE.
The Dorahl Bioship embarks on a three-generational trip through the galaxy that turns into a 2,000 year journey.[2]
An unnamed genetic engineer discovers how to target and eradicate individual cancer cells.[4]
Late 2396 or Early 2397
Edit
Late 2418
Edit
September
Edit
September-October
Edit
October-November
Edit
Topa receives sex reassignment surgery to become male.[17]
November-December
Edit
Late 2419
Edit
A team from the Orville is sent to retrieve the missing anthropologists Tom and Lewis. Only Lewis is found.[21]
Early 2420
Edit
Mid-2420
Edit
29th century
Edit
Pria Lavesque is born.
Captured Amelia Earhart lives the remainder of her life.
A Benzian antiques collector negotiates for the price of the Orville.
References
Edit