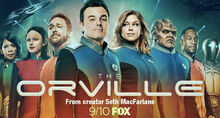 The following is a list of episodes of The Orville. On November 2, 2017, Fox renewed the show for a second season. Two weeks later, Fox moved the Season 1 finale to the Season 2 premier.
Count
Season
Episode
ID
Code
Title
Airdate
Rating[1]
Notes
Summary
001
01
01
S01E01
1LAB01
Old Wounds
2017-09-10
2.73/8.56
Pilot.
Commander Ed Mercer gets promoted to captain of a ship, the USS Orville. Mercer's ex-wife is assigned as his First Officer. The Krill attempt to steal powerful Union technology.
002
01
02
S01E02
1LAB03
Command Performance
2017-09-14
2.17/6.63
Third series production, fourth-produced episode overall.
When Mercer and Grayson are trapped in a replica of their old apartment, inexperienced Alara Kitan is placed in the captain's chair.
003
01
03
S01E03
1LAB04
About a Girl
2017-09-21
1.1/4.05
The Orville visits Bortus's planet. Bortus and Klyden make a controversial request that sends the crew into a tailspin.
004
01
04
S01E04
1LAB02
If the Stars Should Appear
2017-09-28
1.05/3.7
First series production.
The crew intercept a bioship about to drift into a star.
005
01
05
S01E05
1LAB05
Pria
2017-10-05
0.91/3.43
The Orville saves the attractive Pria Lavesque, but Kelly Grayson is suspicious of her motives.
006
01
06
S01E06
1LAB06
Krill
2017-10-12
0.99/3.37
Gordon Malloy and Mercer infiltrate a Krill destroyer to obtain a copy of the Krill holy text.
007
01
07
S01E07
1LAB07
Majority Rule
2017-10-26
1.21/4.18
A landing party explore a parallel Earth at the dawn of the 21st-century level of culture and technology, which exercises an extreme form of democracy.
008
01
08
S01E08
1LAB08
Into the Fold
2017-11-02
1/3.83
The Finns and Isaac are stranded on an unknown moon.
009
01
09
S01E09
1LAB09
Cupid's Dagger
2017-11-09
1.04/3.69
Darulio returns to cause havok during tense war negotiations
010
01
10
S01E10
1LAB10
Firestorm
2017-11-16
0.93/3.32
A crew member dies, forcing Alara Kitan to question whether she is fit for command.
011
01
11
S01E11
1LAB11
New Dimensions
2017-11-23
0.9/3.63
The ship is crippled by a spatial anomaly. Meanwhile, Mercer must decide who to promote to Chief Engineer.
012
01
12
S01E12
1LAB12
Mad Idolatry
2017-11-30
1.2/4.2
Season 1 finale.
The crew discovers a planet from another universe. Ed and Kelly consider getting back together.
List of episodes
Count
Season
Episode
ID
Code
Title
Airdate
Ratings
Notes
Summary
013
02
01
S02E01
1LAB14
TBD
N/A
-
Season 2 premiere.
014
02
02
S02E02
1LAB15
Home
N/A
-
015
02
03
S02E03
1LAB16
TBA
N/A
-
N/A
02
N/A
TBD; S01E12 (former)
1LAB12
Primal Urges
N/A
-
Twelfth series production episode. Originally Season 1, Episode 12.
Creator Seth MacFarlane has confirmed that there will be at least 14 episodes in Season 2 (including the former finale of Season 1 above).
References
Edit
↑ "The Orville: Season One Ratings". TVSeriesFinale.com. Online. https://tvseriesfinale.com/tv-show/the-orville-season-one-ratings/ (Last accessed Dec. 6, 2017). (First figure is the 18-49 demographic; second is the overall number of viewers.)