The Orville: Official Trailer
Season 1 of The Orville first aired on September 10, 2017, with 8.56 million viewers, the most-watched debut on Fox since Empire in 2015.[1] It was renewed for a second season on November 2 of that year.[2] Because of the show's elaborate production costs, The Orville was intended for a limited 13-episode run. However, on November 14, Fox confirmed that it would change the original Season 1 finale to a Season 2 premiere.[3] While Fox did not comment on its decision, the move is not unusual for the company.
Production
Edit
Filming each episode took an average of eight days.[4]
List of episodes
Edit
Count
Season
Episode
ID
Code
Title
Airdate
Rating[5]
Notes
Summary
001
01
01
S01E01
1LAB01
Old Wounds
2017-09-10
2.73/8.56
Pilot.
Commander Ed Mercer gets promoted to captain of a ship, the USS Orville. Mercer's ex-wife is assigned as his First Officer. The Krill attempt to steal powerful Union technology.
002
01
02
S01E02
1LAB03
Command Performance
2017-09-14
2.17/6.63
Third series production, fourth-produced episode overall.
When Mercer and Grayson are trapped in a replica of their old apartment, inexperienced Alara Kitan is placed in the captain's chair.
003
01
03
S01E03
1LAB04
About a Girl
2017-09-21
1.1/4.05
The Orville visits Bortus's planet. Bortus and Klyden make a controversial request that sends the crew into a tailspin.
004
01
04
S01E04
1LAB02
If the Stars Should Appear
2017-09-28
1.05/3.7
First series production.
The crew intercept a bioship about to drift into a star.
005
01
05
S01E05
1LAB05
Pria
2017-10-05
0.91/3.43
The Orville saves the attractive Pria Lavesque, but Kelly Grayson is suspicious of her motives.
006
01
06
S01E06
1LAB06
Krill
2017-10-12
0.99/3.37
Gordon Malloy and Mercer infiltrate a Krill destroyer to obtain a copy of the Krill holy text.
007
01
07
S01E07
1LAB07
Majority Rule
2017-10-26
1.21/4.18
A landing party explore a parallel Earth at the dawn of the 21st-century level of culture and technology, which exercises an extreme form of democracy.
008
01
08
S01E08
1LAB08
Into the Fold
2017-11-02
1/3.83
The Finns and Isaac are stranded on an unknown moon.
009
01
09
S01E09
1LAB09
Cupid's Dagger
2017-11-09
1.04/3.69
Darulio returns to cause havok during tense war negotiations
010
01
10
S01E10
1LAB10
Firestorm
2017-11-16
0.93/3.32
A crew member dies, forcing Alara Kitan to question whether she is fit for command.
011
01
11
S01E11
1LAB11
New Dimensions
2017-11-23
0.9/3.63
The ship is crippled by a spatial anomaly. Meanwhile, Mercer must decide who to promote to Chief Engineer.
012
01
12
S01E12
1LAB12
Mad Idolatry
2017-11-30
1.2/4.2
Season 1 finale.
The crew discovers a planet from another universe. Ed and Kelly consider getting back together.
Reception
Edit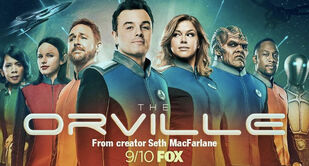 The premier opened to mostly negative reviews by critics who said the show did not know whether it wanted to be a comedy or a serious science fiction drama. As of December 7, 2017, the show 21 percent fresh on Rotten Tomatoes and critic reviews are 36 percent positive according to Metacritic.
However, viewer response has been mostly positive. Users on IMDB rate The Orville 7.9/10.
References
Edit