The Orville: Official Trailer
This article is about the Fox television series. For Planetary Union space vessel, see
USS Orville
.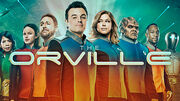 The Orville is an American television series airing on Fox. It centers around the antics of Captain Ed Mercer and his crew as they explore the 25th century in a spacecraft of the same name. The series was renewed for a Second Season November 2nd 2017.
Development
Edit
The Orville was picked up by Fox in Spring 2016 after being pitched as a thirteen episode series by Seth MacFarlane. Insisting that doing the series was a childhood dream of his, inspired by popular Science Fiction series such as the Twilight Zone and Star Trek. On July 29th 2016 it was announced at Comic Con MacFarlane would be staring in The Orville as the Captain Ed Mercer alongside Adrianne Palicki and Scott Grimes. Throughout the year Peter Macon, J. Lee, Halston Sage, and Penny Johnson Jerald were also cast to be starring as regulars. It was also announced Jon Favreau would be directing the Pilot and that Charlize Theron would guest star during a future episode.
Filming for Season 1 began March 27th and ended on August 23rd 2017. The pilot Old Wounds aired September 10th on Fox.
Critical Reception
Edit
The Orville received largely negative reviews after the Pilot had aired. Attracting only a 21% rating on Rotten Tomatoes and being dismissed by the majority of critics as a poor imitation of Science Fiction or space related television before it. In spite of this however, The Orville managed to gain some of the highest ratings on the entire network and receive an extremely high approval rating from audiences. Many celebrities including David Anders and Craig Ferguson have expressed over Twitter their support for the series and how much of a disconnect their appears to be between critics and fans in regards to the show's overall quality.
Due to the high ratings and strong audience support Fox renewed The Orville for a second season in November 2017.
It is heavily inspired as an homage to the popular sci-fi television franchise Star Trek. In particular, The Original Series & The Next Generation.
The Orville Season 1 was originally meant to be Thirteen Episodes with the finale, Mad Idolatry airing December 14th 2017. However, for unknown reasons Episode 11 was moved and the finale instead slated to air a week earlier, shortening the entire season as a whole.
Ad blocker interference detected!
Wikia is a free-to-use site that makes money from advertising. We have a modified experience for viewers using ad blockers

Wikia is not accessible if you've made further modifications. Remove the custom ad blocker rule(s) and the page will load as expected.