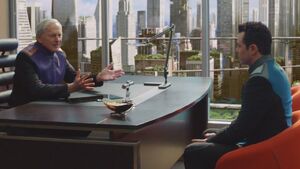 Planetary Union Central is the headquarters of the Planetary Union located on Earth.
Admiral Halsey called the USS Orville from Union Central, assigning Captain Ed Mercer and Commander Kelly Grayson the task of mediating the Navarian-Bruidian conflict.
Appearances
Edit
Ad blocker interference detected!
Wikia is a free-to-use site that makes money from advertising. We have a modified experience for viewers using ad blockers

Wikia is not accessible if you've made further modifications. Remove the custom ad blocker rule(s) and the page will load as expected.